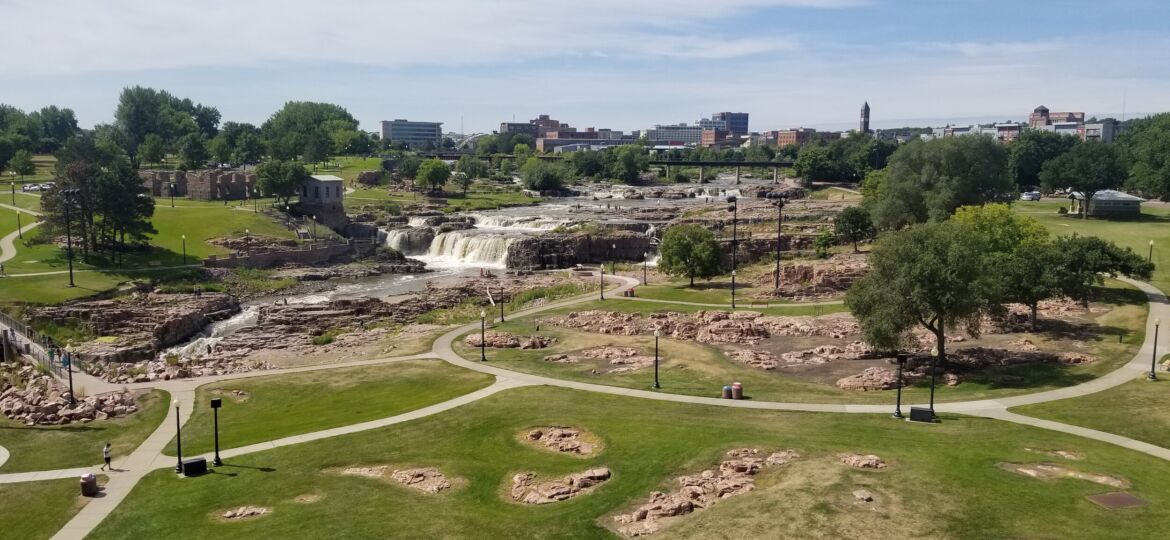 Sparkle Adventures is an adventure travel planning company specializing in adventure travel in the US. We love planning adventures!
Learn more about our custom adventure planning services. Get our Complete Guide to Planning A US Road Trip!
Contents
A road trip is a fun way to travel
1 day/ 2 nights in St Joseph, MO
2 days/ 3 nights Sioux Falls, South Dakota
2 days/ 3 nights Badlands National Park – Interior South, Dakota
2 days/ 3 nights Cheyenne Wyoming
Planning meals/grocery shopping
Snow Peak GigaPower 2.0 Backpacking Stove
A road trip is a fun way to travel!
I love road trips. I love driving and seeing the world along the way to my next destination. I have seen some amazing scenery and parts of the country you won't see if you fly to your destination. You can go to more places on a road trip. It can be cheaper to get there especially if you have more than one person going on the trip. I usually do! If you don't have a lot of funds for travel, road trips can be very budget friendly. I spent about $1200 for this trip including everything – gas, camping and park fees, eating out, ice, etc.
My son lives in Paonia, Colorado and I am in Saint Louis, Missouri. I wanted to take my 2 grandchildren, from Saint Louis, to visit their cousins and my mom wants to see her grandson and his family. As long as we are making the 17-hour drive, we should see some new places along the way. We are Missourians, so we have seen much of our state and we have driven through Kansas enough times. We have never been to South Dakota and it is not far out of the way. So, South Dakota here we come!
1 day/ 2 nights in St Joseph, MO
We planned our road trip so that we weren't driving any more than 5 hours. Our final destination was Paonia, Colorado to visit my son and grandbabies. We wanted to go through South Dakota but that is 10 hours from St Louis, so we needed a stop in between.
St Joseph is a small town on the Missouri River in Northwest Missouri a little less than 5 hours from St Louis and a little less than 5 hours from Sioux Falls, South Dakota.
AOK RV Park and Campground which was right off the highway and only 15 minutes from the St Joseph River Walk was perfect for our stopover on our road trip. Our tent site was on the little lake. We felt secluded from the mostly RV park and the dogs had a great spot with shade away from other campers.
They also had a pool which the kids loved! I have never camped anywhere with a pool. If you are traveling with kids, a pool is the most wonderful thing. My grandson woke up asking when we were going swimming. After our morning adventure to the St Joseph River Walk, I did yoga while the kids played in the pool. It was nice to be able to cool off on a hot summer day. A pool is a great place for kids to make friends.
AOK RV Park and Campground was great for our purpose – a road trip. I wouldn't stay here for a "camping" trip but as a stopover it was perfect. The owners were great, everything was clean. The only thing we didn't like was the big hill up to the bathroom/showers and pool.
St Joseph's Riverwalk starting at the Remington Nature Center was incredible. This park built along the Missouri River featured a river walk trail that meandered along the river. Even though there was a paved trail, it did not feel man made. I felt like I walked back in time to when the river was wild. Check out this scavenger hunt to take with you on your river walk. Look for eagles starting in December through March.
2 days/ 3 nights Sioux Falls, South Dakota
Sioux Falls, South Dakota was by far our favorite destination on our road trip. The sky somehow feels closer to the earth in South Dakota.
Sioux Falls on the southeastern side of South Dakota is the most populous city in South Dakota and grew up around the falls on the Big Sioux River.
Pallisades State Park was our only state park stay on this road trip and by far the best place we stayed (even without the pool).
According to their website, "Palisades State Park is one of the most unique areas in South Dakota. Split Rock Creek, which flows through the park, is lined with Sioux quartzite formations varying from shelves several feet above the water to 50-foot vertical cliffs. Scenic overlooks and rushing water make Palisades a popular getaway."
We enjoyed exploring the park trails and finding the markers for the park's scavenger hunt. There is lots to explore and plenty of places for kids to climb. The palisades are breathtaking and magical inviting meditation and quiet.
The layout of the campground created a feeling of seclusion while still enjoying all the amenities. Our campsite backed into the woods with only neighbors on either side of us, no one felt overly close. There was a sweet family with 3 kids staying next to us. My grandbabies quickly made friends and spent a lot of time playing. There was a little trail through the woods from our campsite that magically transported us right to the park's playground and shower house.
Falls Park was the best day ever! Falls Park is built around the Big Sioux River where it tumbles over a series of rock faces creating the falls. You could spend all day climbing around the rock faces or just sit there enjoying the breeze and listening to the rushing water. The park has lots of trees for shade, picnic tables to take a rest or enjoy your lunch and a nature center with a gift shop and bathrooms. Perhaps the best of this park though is the adorable chipmunks running all over the park. The chipmunks in this park have built an extensive network of underground trails. Everywhere you look you will see a chipmunk or two or three popping up and scurrying to the next hole. They were so fun to watch during our lunch.
2 days/ 3 nights Badlands National Park – Interior South, Dakota
Badlands National Park was not on my bucket list. But it was along the way and fit into my itinerary, so we picked it for our second destination on this road trip. I was awed by the beauty of the badlands. The National Park's website describes the badlands as "geological formations characterized by soft sedimentary rocks that erode easily." Learn more about the park here.
So basically, it is a lot of rocks. But they are big rocks and there are a lot of them, and they are beautiful with the variety of shades and colors. The scenic drive route between the park office and Wall, South Dakota was incredible. There were lots of places to stop and explore. The park ranger told us the only rule – don't fall. You can climb and hike anywhere you want in the park!
The only thing I would change for this destination is to go when it is cooler. It was too hot to spend too much time climbing and exploring.
KOA Badlands which was just outside the park boundaries but still part of the geological landscape was by far the best choice for us and for this time of year. There were a few campgrounds and RV parks in the area including a campground and boondocking area in the park. None of them had any trees or shade. There were enough trees at the KOA to provide some shade from the heat of the day. And they have a pool! This was our first visit to a KOA Campground. They are more expensive than some other camping options because of the amenities they provide but it just might be worth it. For us, traveling with kids in August and on a long trip, the amenities made our trip feel like we were staying in a hotel without the hotel prices.
Wall Drug started out as a little town drug store but grew into what it is today by providing free ice water to travelers passing through the badlands. Since we drove the scenic route to Wall, South Dakota, we made the touristy stop at Wall Drug. There was a lot to do and they didn't charge for admission. There are lots of ways to spend money there but there are plenty of free things to do as well. The kids most enjoyed the splash area, and the life size T-Rex scared the daylights out of them. The gift shop induced temper tantrums. Thankfully there was a pool waiting for us to rest and cool off back at camp.
2 days/ 3 nights Cheyenne Wyoming
Cheyenne, Wyoming was our last stop on our road trip before heading to visit my son in Paonia, Colorado. We planned to stay close to town so we could visit Cheyenne. It would have been great to go to a rodeo but those were not operating during the pandemic. Cheyenne is a cute little western town. We had a lot of fun running around the town looking for their signature boot sculptures that are part of the town's scavenger hunt. Did you know Wyoming was the first state to give women the right to vote? Wyoming women were voting long before the 19th Amendment was ratified in `1920. We also made a stop for ice cream and did a playground tour of their local parks.
We were all getting a little tired by this leg of our trip so our second day we hung out at the KOA and played in the pool.
I initially made a reservation at Terry Bison Ranch. When we arrived, we were a bit leery about the place. After checking in and driving to the alleged campsite, we quickly decided we were not staying here. I googled campgrounds and RV parks and immediately found the KOA Journey just a couple miles away. Called and got an immediate reservation, checked out of Terry Bison with a full refund. Thank goodness the KOA had an opening.
KOA Journey in Cheyenne Wyoming was wonderful. Everything was clean and well maintained. They had a pool and miniature golf and a dog park. The staff were so friendly and helpful. It was super close to downtown. Only one thing could have made it a little better, if there were a few more trees to screen the campsite from the truck shop next door. The park is in an industrial area with multiple commercial businesses nearby. Which amazingly was not that noticeable. But our site was next to the truck shop and the lights were a little bright, a few more trees would have solved that problem.
Paonia, Colorado
Paonia, Colorado was the final stop on this 3-week road trip. We were excited to arrive to see my son and his family. We spent our week here visiting with my son and his wife, playing with grandbabies and cousins, eating good local food and wine, playing in the river, exploring the Grand Mesa, visiting friends, helping with chores, and relaxing.
"Paonia is a unique town, settled by farmers, ranchers and miners, now home to artists and outdoor lovers as well. Surrounded by mountains and the Grand Mesa, Uncompahgre and Gunnison National Forests, Paonia, Colorado is in the North Fork Valley of western Colorado – the valley includes Paonia, Hotchkiss and Crawford."
---
The route to Paonia Colorado was blocked on Interstate 70 due to fires. I am sad that Colorado was experiencing those devastating fires. But it forced us to take a route we may not have taken otherwise. It was several hours longer to get to Paonia on the scenic route, but it was absolutely worth it. I was awed by the landscape every minute of the journey. I wanted to stop every few minutes and get out and take pictures or just stand there and admire the immense beauty of this landscape. We did stop a few times at various scenic overlooks. We drove through the Gunnison National Forest and the Curecanti National Recreation Area. The next time I visit my son I am staying at one of these areas; he will have to come visit me!
Where will you stay/lodging?
Tent Camping versus RV
If you are going on a road trip, tent camping is a low budget way to travel and if you are going solo it is a pretty easy way to travel. Add a couple kids, 3 dogs and an old lady and it gets a bit more challenging. I decided I was up for the challenge and we could not miss this opportunity to go on a fun road trip.
By the end of this trip, I am ready for an RV so I can do more of these trips. Would I do it again in a tent if that is the only way- YES ABSOLUTELY!
For 2 adults, 2 kids and 3 dogs, there is a lot of stuff to load and unload at every place. With an RV we would not have to load and unload at every stop. There is a little work involved in getting your RV set up and connected about equal to setting up a tent but none of the unloading and loading of all your gear.
I was feeling a little anxious about the idea of setting up and breaking down camp 5 times, so I timed it at the first stop so I knew exactly how much time it was taking, and I could put it into perspective. It took us an hour to unload our truck and set up camp. It took about an hour and a half to break down camp and load the truck, so the time was not too bad. But unloading and loading the truck and the work is hard on the back especially if you are an old lady.
We were extremely organized. We had things packed so that we weren't moving things unnecessarily. The first two times it felt easy but by the 3rd time we were starting to feel physically worn out. We stayed at our first stop for 1 day/2 nights, but after that we stayed everywhere 2 days/3 nights. I would not recommend anything less than that for tent camping. The first short stay was cool but after that if we would have moved more often than 2 days/3nights we would have felt like we were working more than having fun.
On moving day – we broke down camp starting at 9am and were on the road by 11. We planned our trip with no more than 5 hours of driving so we were at our next stop by 4 or 5 depending on our rest stops and set up by 5 or 6, ready to make dinner and relax and plan our site seeing for the next day.
Would I love to have an RV for my next road trip- YES! Would I do it again tent camping- ABSOLUTELY!!
Reasons for an RV
1. No loading and unloading stuff.
2. Setting up and breaking down camp is easier.
3. You can stay one night and go.
Reasons for a tent
1. We just like the tent areas better. The RV areas just feel less like camping. if you like the tent areas better too you can always get a small RV that is allowed in tent areas (check with your campground/RV park for restrictions). You can still boondock (no hook ups/dry camping) with an RV but make sure your RV will go where you are going.
2. It is easier to get find openings for tent spots. If you have a small RV and don't mind boondocking (no hook ups/dry camping), you can still get those tent spots if full hook ups are not available.
Planning meals/grocery shopping
This trip was all about the adventures so we planned simple easy meals that would fill us up and keep us moving. While we had our entire trip's meals planned, we bought only what we needed for the first week. We planned to stop along the way for groceries for the second week. Our 3rd week would be at my son's.
For breakfast, we planned things like yogurt and trail mix, fruit, muffins, hard boiled eggs. My mother needs her morning tea and I like having coffee. We brought along my snow peak gigapower backpacking stove. This tiny little thing heats up a pot of water in under a minute (unless it is windy). Every morning I heated up water for our tea and coffee.
For lunch, we usually had cheese and apples, pretzels and dip and other snacks. Or leftovers from last night's dinner if there were any.
For dinner, we planned one pot meals that we could cook on my snow peak backpacking stove. My favorites were my DIY cheeseburger macaroni, the sloppy joes my mom made and of course our all-time favorite – walking tacos. We also grilled for one of our dinners. I love BBQ chicken legs.
My little stove worked great for cooking a one pot meal for four and heating up water for our morning drinks. It takes up little room and doesn't require any set up or cleaning. We brought along (2) 16 oz Jetboil Jetpower fuel cannisters from REI. We used most of the second cannister. The great thing about these cannisters is they can be recycled just like a tin can. To recycle the cannisters you will need the Jetboil tool that puts a hole in the cannister after it is empty, then toss it in the recycling bin.
Traveling with kids
I have traveled with my grandchildren before, so I had some idea what to expect from them. We traveled to Colorado last year for our first time. Last year, we made one stop along the way near Denver for a weekend at the Colorado Tiny House Festival- also tent camping. So, they had done a 12-hour day in the car.
For our first trip with them we were planning for the worst – cranky kids after too many hours in the car. But it turned out great! My daughter packed them an activity bag with coloring books, stickers, little toys and snacks that kept them entertained. I also think we were more patient and emotionally prepared because we planned for cranky kids. So, when you are traveling with kids – keep them entertained and be patient and plan for lots of stops. I highly recommend the activity bag.
Considering how well they traveled, we decided they could handle our 3-week adventure. This time we planned our stops so that we weren't traveling more than 6 hours, but we also had a lot more stops and a lot more time to keep them entertained and happy. 3 weeks is a long time with your grandchildren!
The number one piece of advice I will give if you are going on a road trip with kids- book as many places with pools as possible. This was the best thing ever!
When making reservations for campgrounds/RV Parks, I did not look for places with a pool, but 2 of them had a pool. They loved it and it gave me a break from their constant attention. At our first stop, I was able to do yoga while they played in the pool. Or I could read and feel rested after our days adventures while they played in the pool.
My grandkids are wonderful at making friends especially at the pool or playgrounds. It was fun meeting people at the pool.
The only downside, that's all my grandson wanted to do. His only question was, "When are we going swimming?" He did have fun with our other activities and site seeing but he would have been happy just swimming.
The other thing I recommend when traveling with kids – stay away from gift shops! I hate spending money on stupid junk. But kids love that stuff and that is where temper tantrums happen. We only did one touristy stop at Wall Drug near the Badlands National Park. There were some fun activities for kids, so we did have fun. But then we visited the gift shop for souvenirs for their parents. That was the one time in the trip that we all had full on temper tantrums- adults included!
We had to stop a couple times to restock food and other items. We let them pick one item to buy and we let them pick one food item. This helped with avoiding tantrums.
My granddaughter still pees at night. We bought washable pull ups and planned on doing laundry along the way. Fortunately, our campgrounds had laundry facilities. I recommend looking for places with laundry if you are traveling with kids. KOA's are not the only places with a pool and laundry but that seems to be a standard amenity for their facilities.
My grandson runs off when he gets mad about pretty much anything. My daughter bought him a backpack with a leash so we could hold onto him. Funny though, he was so excited about the backpack and leash that he reminded us to put it on him. It became a toy, and we were able to keep him safe.
Kids love playgrounds! I think my granddaughter would like a vacation that was touring playgrounds. Leave time for playing along the way.
Finally, when kids are having fun, fed, and well rested they do just fine. We had a lot of fun! I want to travel with my grandkids more. Nana Camp
Traveling with Old Ladies
My mother is 72 years old. She is a wonderful traveling companion. She and I have traveled together enough that we know our jobs. We don't even have to talk much anymore when we are setting up and breaking down camp. She loves camping and traveling with me. She is easy going and happy doing pretty much anything.
But old ladies can be just like toddlers sometimes. When the kids had temper tantrums so did she. My mother and I talked after the Wall Drug tantrums and I said "Mom, it would be helpful when I am losing patience or having trouble with the kids if you could be supportive instead of joining in." She laughed and said, "you thought you brought 2 kids?"
And you should remember that old ladies can't do everything you can do. Just like kids, they need more rest and down time. Whether you are traveling with kids or old ladies, don't over plan your day.
Traveling & Camping with Dogs
Traveling with dogs is a challenge. I would have preferred to leave them at home, but I didn't have anyone to care for them and budget wise I didn't have the money to pay anyone. We made it work.
The biggest challenge is where to leave them when you are doing stuff. I looked it up, my vehicle, a Chevy Silverado truck, burns about a half-gallon of gas per hour when just idling. This made me feel better about leaving them in my vehicle while we were doing stuff. We rarely left them for long. The maximum was a couple hours while we were at Wall Drug. For about $5 in gas, they had a cool safe place to stay. My mom made a sign for the truck – Dogs Inside- Truck is running with the AC on, if truck is not running please call 314.319.XXXX. This worked great and we were able to do everything we wanted on our road trip.
Gear, Products & Reviews
Jackery 160 Power Station
I bought the Jackery 160 Power Station for this trip. The 160 is the lowest watt station Jackery sells. They have a range of power stations that can power much more than the 160. The 160 fit our needs to blow up air mattresses and charge our cell phones. For only $100 this little machine was a necessity for our 3-week tent camping trip. We charged it with the car charger on our way to each destination. It had enough power to charge everything we needed for our 3 night/2 day stays at each destination. We never ran it down to even 50% so it would work for longer trips. I will be buying more from Jackery.
Snow Peak GigaPower 2.0 Backpacking Stove
I love, love, love my Snow Peak GigaPower 2.0 backpacking stove. I have had to replace my stove because I gave my first one to my son. I loved it so much I made sure to get the exact model again. My tiny little stove with push button ignition packs a lot of heat. We used this tiny little one burner stove to cook all our one pot meals on our 3-week road trip. It heats up a pot of water in about a minute (windy conditions can affect this time).
Kampgrounds of America KOA
KOA RV Park and Campgrounds are like hotels but for RV's, travel trailers and tent camping. They have pools and many other amenities. We stayed at two KOAs on this trip. I loved both. The pool is by far the best reason to look for a KOA if you are on a summer road trip. They also had a laundry facility on site that was easy to access. Their shower and bathroom facilities were clean and well maintained. Both KOAs had a miniature golf course and other activities and toys we could use during our down times. KOA has a rewards program for their network of RV parks and campgrounds. Visit the KOA website to find a KOA in your destination.
---
Sparkle Adventures is an adventure travel planning company specializing in adventure travel in the US. We love planning adventures!
Learn more about our custom adventure planning services. Get our Complete Guide to Planning A US Road Trip!