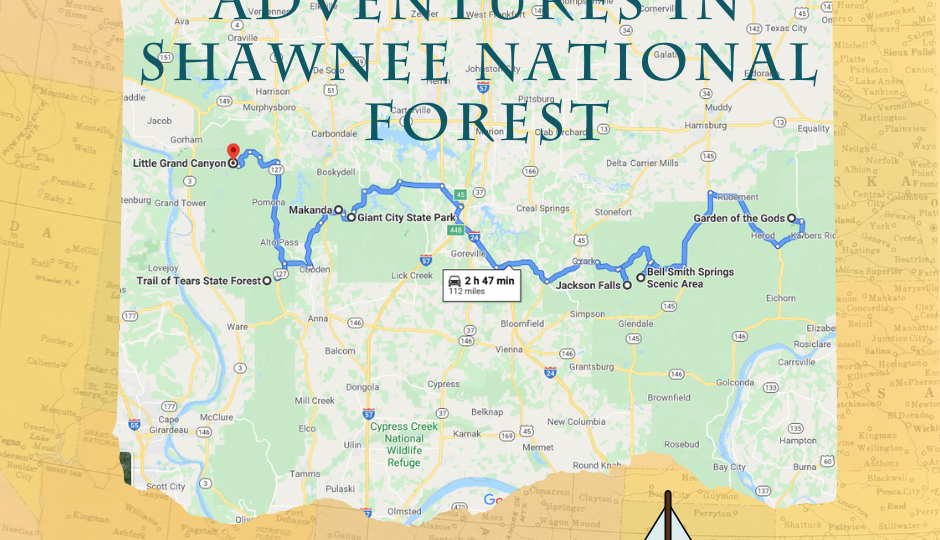 ---
"One of the most photographed locations in the state, Garden of the Gods' scenic beauty is extraordinary. In the recreation area you can hike, camp, nature watch or picnic.
The Observation Trail features unique sandstone rock formations and panoramic views of the surrounding Garden of the God Wilderness. Interpretive signs explain the geological history. The 1/4-mile trail is made of natural sandstone and takes about an hour to walk. It contains short, steep grades and steps; benches are located along the trail. Caution should be used due to the high cliffs in the area. "
Camping is available at Garden of the Gods for $10 per night for up to 8 people and 2 vehicles. There are 12 sites available for both tents and camping trailers – first come first served, no reservations. Click here to find details about camping and other activities at the Garden of the Gods.
Garden of the Gods brochure/map
---
"Bell Smith Springs is one of the most beautiful recreation areas the Shawnee National Forest has to offer. It contains a series of clear, rocky streams and scenic canyons bordered by high sandstone cliffs and an abundance of vegetation unique to Illinois. The trail system consists of eight miles of interconnected trails featuring strange and wonderful rock formations, such as Devil's Backbone, Boulder Falls and a natural rock bridge. Hiking this system of trails is a favorite activity because of the rock features, scenic overlooks, hidden springs and lush flora and fauna."
Camping is available in the Bell Smith Springs Recreation Area for $10 per night for up to 8 people and 2 vehicles. There are 21 sites available for both tents and camping trailers – first come first served, no reservations. Click here to find details about camping and other activities at Bell Smith Recreation Area.
"The bluffs and rock faces found at Jackson Falls offer excellent technical climbing surrounded by a beautifully scenic area of the Shawnee National Forest. Considered part of the general forest area the Jackson Falls has a vault toilet. Camping is free, but limited to a maximum of 14-days continuous stay.
From the trailhead a short trail leads to the top of Jackson Falls. High bluffs are in the area, visitors should be cautious and aware of their surroundings."
---
"With its breathtaking natural beauty and unlimited opportunities for outdoor recreation, a trip to Giant City State Park near Carbondale is sure to delight visitors of all ages. From camping and horseback riding to fishing and rappelling, it's an outdoor lover's paradise. Visitors will marvel at the many hiking trails. Especially popular is the Giant City Nature Trail, home of the "Giant City Streets" – huge bluffs of sandstone formed 12,000 years ago.
Nestled in the Shawnee National Forest, Giant City State Park was named for the unique impressions made by its massive sandstone structures and a landscape like none other, with lush garments of fern, moss, flowering mints, hundreds of species of wild flowers and more than 75 varieties of towering trees.
The Giant City Visitor Center provides interpretive displays on the geology, plants, animals and history of the park, and regional tourism information."
Lodging In Giant City State Park
The rustic beauty of the Giant City Lodge is the perfect fit for the natural splendor of the park, with three types of cabins, and the Bald Knob dining room, the lodge also features a gift shop, lounge, and outdoor swimming pool. Open from early February until early December, contact the lodge for reservation information at 618-457-4921 or visit the Giant City Lodge website.
Giant City is also popular for a camping retreat, with 85 Class A campsites that can be reserved online at ReserveAmerica, a Class C camping area with 14 walk-in campsites, and a youth group camping area.
Things to Do In Giant City State Park
Visitors can enjoy picturesque natural wonders along Giant City's hiking trails, and rock climbing and rappelling are permitted in two locations. Click here for Rock Climbing Information in Giant City State Park.
Horseback riding enthusiasts will find an equestrian campground and a 12-mile loop trail, and visitors without horses can stop by Giant City Stables.
Ponds are located throughout the park for bank fishing. Check out the park's Fishing Map and Fishing Information Sheet.
---
"Little Grand Canyon is especially beautiful during April and October when spring wildflowers and fall colors are at their peak. The entire trail is 3 miles but shorter segments can be taken that lead to scenic overlooks. The upper trail has interpretive signs. In the canyon the trail winds along the base of 300-foot bluffs and through a bottomland forest before leading out of the canyon through a rocky creekbed.
Difficulty rating of the trail is moderate to difficult, due to length, degree of slope and difficulty of terrain. Hikers should be aware that the trail segment in and out of the canyon is a byway of a steep, wet rocky creekbed."
Be aware Little Grand Canyon Trail is a remote area where you could face inherent risks of adverse weather conditions, isolation, physical hazards, and lack of rapid communications. Search and rescue may not be as rapid as expected.
Be prepared and Know Before You Go. Also check out our Forest Emergency & Safety Brochure. Little Grand Canyon brochure/map
"Ask any Makanda resident what makes Makanda different and better than other surrounding towns and you'll probably hear responses like beautiful, scenic, quiet, and unlike any other town in Southern Illinois. Makanda is known for it's unique shops and businesses on the boardwalk – unlike anything else you'll find. Makanda is the Gateway to Giant City State Park with the Shawnee Hills Wine Trail and the scenic River to River Trail passing through the village.
"Trail of Tears State Forest is situated in western Union County, five miles northwest of Jonesboro and 20 miles south of Murphysboro. Just over 5,000 acres are within the state forest. The state forest system in Illinois was established to set aside lands for the growing of timber needed in production of forest products, for watershed protection, and to provide outdoor recreation. Trail of Tears State Forest is a multiple-use site managed for timber, wildlife, ecosystem preservation, watershed protection and recreation."
---
Sparkle Adventures offers custom travel adventure planning services for your next adventure. We do the planning; you have the fun! Check out our adventure planning services and pricing at www.sparkle-adventures.com and get your next adventure started today.