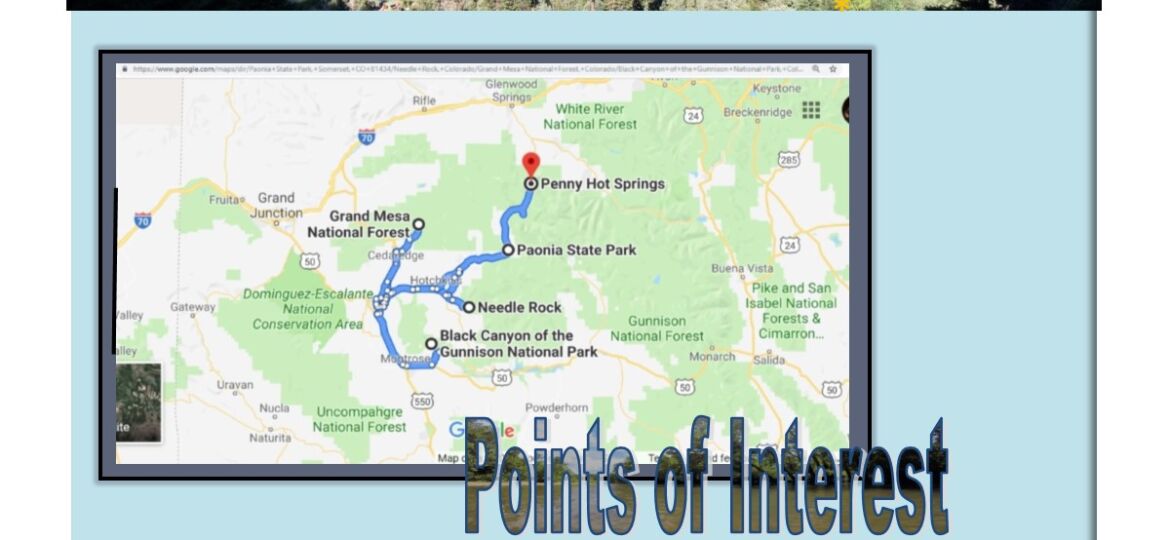 Lodging
· Paonia State Park (Paonia)
· Crawford State Park (Crawford)
· Simpler Time Bed & Breakfast (Paonia)
· Grand Mesa Uncompahgre and Gunnison National Forests
· North Rim Hunting & Fishing Lodge (Hotchkiss)
Points of Interest
· Grand Mesa Uncompahgre and Gunnison National Forests
Activities
· Biking
· Hiking
· Hunting
Events
· Pioneer Days (Crawford, June)
· Cherry Days Festival (Paonia, July)
· Pickin In the Park (Paonia, Thursdays, August)
· Farm to Fiddle Summer Festival (Hotchkiss, August)
· Mountain Harvest Festival (Paonia, September)
Dreaming of your next adventure? Sparkle Adventures offers custom adventure planning services for your next adventure. Just need ideas? We have lots of ideas to help you plan your outdoor adventure.
Surrounded by mountains and the Grand Mesa, Uncompahgre and Gunnison National Forests, Paonia, Colorado is in the North Fork Valley of western Colorado – the valley includes Paonia, Hotchkiss and Crawford. "The area has been a popular destination for hunters and fishermen for over a century. In the fall, hunters from near and far congregate in the Valley's towns to pick up provisions and to swap stories in the local restaurants; while the lucky ones bring their harvest for processing."
"Whether for fishing, boating, rafting or floating, area rivers, lakes and streams are popular destinations. Many also enjoy the endless hiking opportunities. Logging roads are traversed by those on off road vehicles, ATVs, mountain bikes and dirt bikes. Snowmobilers take advantage of the snow-covered high country during the chilly months, and the area's State and National Parks draw many satisfied visitors year round."
"Paonia is a unique town, settled by farmers, ranchers and miners, now home to artists and outdoor lovers as well. It consistently ranks as one of the "coolest" Colorado mountain towns, and that's saying something!
Paonia is naturally air conditioned by warm air flowing up the valley at night and cool air from the mountains during the day resulting in optimal conditions for growing cherries, apricots, grapes, peaches, plums, pears, nectarines and apples. The oldest continuous outdoor community celebration in Colorado is Paonia Cherry Days held over the Fourth of July holiday.
Paonia is a real hotbed of organic farming, sustainably raised meats, value added products, organic hops and a truly remarkable wine industry. You will eat some of the highest quality, cleanest food in the world when you visit this Valley.
Paonia is a focal point of back roads and trails leading into the forest, attracting hunters, hikers bicyclists and cross-country skiers. Hunters outfit themselves in Paonia before setting out to get their elk, deer, and bear. Few places offer such a wonderful combination of climate, scenery, lifestyle and recreation.
The art scene is alive and well in Paonia. The North Fork Valley is a "Certified Colorado Creative District," and home to many creatives, including painters, jewelers, dancers, actors, musicians and other artisans."
Paonia and the North Fork Valley offer lots choices for camping and lodging from extremely primitive – no water in the Poania State Park campground – to backpacking sites in the National Forests and if you like a few luxuries they have that too.
"Camp near a babbling stream, water-ski on a mountain reservoir, have a picnic, observe wildlife, all in view of the majestic Ragged Mountains. Paonia State Park's natural beauty and abundance of wildflowers make it a "must see" for photographers and nature lovers. Plunge deep into nature at this narrow lake park. Steep mountainsides, pristine water, alpine scenery and peaceful environment make Paonia a haven for water and nature lovers."
"Needle Rock lies within the western edge of the West Elk Mountains in western central Colorado. It is the remnant of a volcanic plug that pushed up through the crust, and due to the relative hardness of the basalt of which it is made, has eroded significantly slower than the surrounding mancos shale and sandstone that makes up many of the rocks in the area. Needle Rock Trail is a 0.8 mile lightly trafficked out and back trail located near Crawford, Colorado that offers scenic views and is rated as moderate. The trail offers a number of activity options and is best used from March until October."
"The Grand Mesa, Uncompahgre and Gunnison National Forests are a combination of separate National Forests located on the western slope of the Colorado Rockies. These three forests combined cover almost 3 million acres of National Forest System land in the central and southern Rocky Mountains, an area that lies south of the Colorado River and west of the Continental Divide with some of the most spectacular scenery in the Rockies." There are various sites and access points to these National Forests in Paonia and the North Fork Valley. Camping is available at various locations including backpack sites.
"Black Canyon of the Gunnison exposes you to some of the steepest cliffs, oldest rock, and craggiest spires in North America. With two million years to work, the Gunnison River, along with the forces of weathering, has sculpted this vertical wilderness of rock, water, and sky. Hiking, fishing, kayaking, rafting, rock climbing, and scenic drives. Camping is available"
"Penny Hot Springs is naturally fed with hot mineral water and is free to use. It's located along the Crystal River just past Carbondale, near Aspen. The springs are surrounded by rugged snow capped peaks and breathtaking canyons. It makes for a rejuvenating experience after a long day enjoying the area's recreation, like fishing, climbing, hiking, skiing or whatever you're into."
If you plan your visit to Paonia and the North Fork Valley right, you could enjoy one of the area's festivals.
"Each year in July, Paonia celebrates their Annual Cherry Days. It's a hometown family event complete with a parade down Grand Avenue, Live Entertainment, a Children's Fair, Art Exhibits, Craft Vendors, Beer & Wine tasting and, of course…Cherries! What started as a celebration of the beginning of the fruit season has evolved into a spectacular community celebrations and folks come from all over to join in. The festivities include Downtown Day, sponsored by the Paonia Chamber of Commerce and continue with the Parade and crowning of the Cherry Day Queen and King. A full day of entertainment and vendors takes place in the Paonia Town Park."
"Mountain Harvest Festival is an annual celebration of local music, art, farms, food & spirits organized by the nonprofit organization Mountain Harvest Creative. Held in Paonia in September, visitors enjoy the music of the North Fork Valley, browse local arts and crafts and participate in the fun activities like the Great Chili Cookoff, Grape Stomp, Farm Tours and Saturday Sundown Swing. Mountain Harvest Festival is small town Americana at its best."
"Every Thursday evening in August, Paonia's Town Park comes alive with music as the annual Pickin' in the Park FREE concert series comes to town… One of the North Fork Valley's most anticipated summer events, this concert series brings an eclectic mix of great music to appeal to almost every taste. The park fills with local and visiting music fans, all coming to hear the nationally known headliners and great opening acts and enjoy the hometown atmosphere. The food booths highlight local produce and the libation tent features exclusively local beer and wine. You're welcome to bring your own picnic, as well. Each FREE concert starts at 6pm at the Gazebo in Paonia Town Park and is broadcast across Western Colorado on KVNF community radio."
Everything you can imagine – breathtaking scenery, hiking, fishing, river rafting, hunting, boating, backpacking are part of the big adventure in Paonia, Colorado. We are ready to go now!
Sparkle Adventures offers custom adventure planning services for your next adventure. We do the planning; you have the fun! Check out our adventure planning services and pricing at www.sparkle-adventures.com and get your next adventure started today.