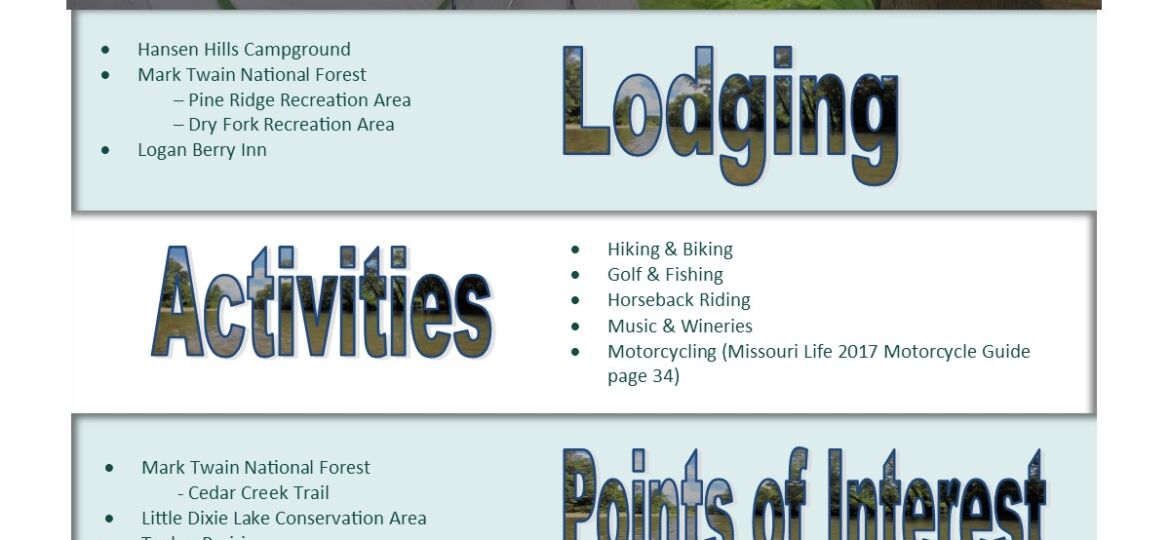 Lodging
· Mark Twain National Forest – Pine Ridge Recreation Area
· Mark Twain National Forest – Dry Fork Recreation Area
Points of Interest
· Mark Twain National Forest – Cedar Creek Trail
· Little Dixie Lake Conservation Area
· Tucker Prairie
Activities
· Motorcycling (Missouri Life 2017 Motorcycle Guide page 34)
Events
· Fulton Farmer's Market (Saturday & Wednesday)
· Fourth of July Celebration (July)
· Central Missouri Renaissance Festivals (Multiple Events)
· 54 Country Live Music & Dancing (Saturdays)
Dreaming of your next adventure? Sparkle Adventures offers custom adventure travel planning services for your next adventure. Just need ideas? We have lots of ideas to help you plan your outdoor adventure.
Fulton, Missouri, located in the St Louis/Central region of Missouri, is a small town with big adventures! "A visit to the Fulton area is ideal for outdoor enthusiasts looking for a travel adventure in Missouri. Experience the beautiful, natural surroundings of Callaway County while enjoying your favorite activities: hiking, biking, fishing, horseback riding, golfing, kayaking and more."
Whether you want to camp or you prefer glamping options – there are plenty of choices for lodging for your adventure in Fulton, Missouri.
"Hanson Hills is a scenic 45 acre campground with 40ft. shade trees in a country setting located in the heart of Mid Missouri at a great location between Kansas City & St. Louis, right off of I-70.
We also feature a convenience store with a cafe, as well as hot & cold beverages and snacks; so even if you aren't staying, stop by!"
Mark Twain National Forest is always a great place to camp – there are two campgrounds in Fulton, Missouri. Pine Ridge Recreation Area is "located in a pine forest and provides a campground and picnic area while serving as a trailhead to the 36-mile Cedar Creek Trail. Four picnic sites and 8 campsites are provided. Larger grassy area can accommodate small groups. – No fee, donations accepted."
"Dry Fork Recreation Area, offers a campground and picnic area located at the equestrian trailhead of the 36-mile Cedar Creek Trail. This area, located in central Missouri near Fulton serves recreationists with or without horses. This campground is situated in a quiet mostly oak/cedar forest. It is comprised of 8 single primitive campsites that can accommodate RVs up to 30 feet in length, each with table, fire ring, and lantern post. Other amenities include drinking water, vault toilets, and hitching rails. There is a picnic area across the road with picnic tables that can accommodate small groups. There are currently no camping fees, but donations are encouraged."
"Loganberry Inn Bed and Breakfast, a nationally recognized award-winning inn, is a grand Victorian home built in 1899. Located very near Fulton's historic Brick District, visitors at the inn can easily walk to see unique antiques, art, and specialty shops, eat at a local restaurant, or visit a local museum."
There are big adventures in this small town! Cedar Creek Trail in the Mark Twain National Forest, Little Dixie Lake Conservation Area, Tucker Prairie and Whetstone Creek offer many opportunities for adventure and outdoor recreation.
"Cedar Creek Trail is situated in the northern portion of the Houston/Rolla/Cedar Creek District (Mark Twain National Forest), which comprises more than 16,000 acres in central Missouri just southeast of Columbia. The trail traverses 36 miles alternating between oak hickory forests and tall grass prairie lands. The trail consists of four main sections. The Southern Loop crosses 23 miles of pastoral countryside with cross-country sections and trail along gravel roads. The Smith Creek Loop traverses five miles between Boydsville and Rutherford Bridge and offers a scenic hike that provides glimpses of Cedar Creek from the bluffs above. The Pine Ridge Section passes through Pine Ridge Recreation Area and is open to foot travel and mountain bikes only; no horses. A horse route is located to the west. The Moon Loop portion is approximately seven miles in length and is named for the moon-like appearance of the area caused by soil erosion in the 1930s. The area has since been restored. The Cedar Creek Unit provides a variety of wildlife habitats and recreational opportunities for the public."
"Little Dixie Lake Conservation Area is in Callaway County, west of Kingdom City. This region of Missouri received settlers from Kentucky, Tennessee, and North Carolina. The settlers' strong cultural and political ties with the south resulted in the name of Little Dixie. The Conservation Department acquired Little Dixie's 467 acres in 1957, through the damming of Owl Creek, 205-acre Little Dixie Lake was created. Additional purchases have expanded the area to 733 acres.
Before Department ownership, much of the property had been grazed. Today, the area's oak-hickory forests have heavy undergrowth, and once-open pastures have reverted to various stages of old-field habitat. Stands of warm-season grasses and other prairie plants are managed by prescribed burns. Numerous small, fishless ponds have been constructed for woodland wildlife. In addition, the Department constructed 22 ponds on the area for fisheries research, including vegetation control, pond stocking rates, fish reproduction, and fish rearing techniques. Both Department personnel and graduate students from the University of Missouri use the area for research."
"If you decide to visit Tucker Prairie, you will see the last sizeable remnant of Missouri's "Grand Prairie" that once covered large areas of 10 counties in northeast and central Missouri. You will marvel at over 200 native plant species and look and listen for grassland birds including the dickcissel, Henslow's sparrow, field sparrow, northern bobwhite, blue grosbeak, eastern kingbird, and eastern meadowlark.
Tucker Prairie contains hardpan soil which means it contains a claypan that restricts drainage. During the winter and spring months the water table is often perched just a foot below ground on the flattest portion of the prairie. In the summer and fall this soil can become quite dry. Characteristic prairie plants found here include big bluestem, rattlesnake master, downy gentian, downy sunflower and prairie blazing star. The hardpan soil with its seasonal saturation supports populations of grassland crayfish whose burrows are used by northern crawfish frogs."
"Wander along and wade fish a scenic Ozark border stream – Whetstone Creek has its headwaters in former prairie plains to the west. Here it down cuts through Mississippian and Devonian period limestones. This small third order stream consists of short, well-defined riffles and long, deep pools. Chert gravel occurs in the riffles and pool bottoms consist of sands and silts. The stream supports over 20 native fish species including the blacknose shiner, a species of conservation concern. Other fishes in the stream include longear sunfish, green sunfish, gizzard shad, bigeye shiner, and red shiner. Along the riparian corridor and associated forests on the short bluffs keep a look out for the belted kingfisher, northern parula, warbling vireo, and Kentucky warbler."
If you are planning an adventure to Fulton, Missouri, you may want to plan your visit during one of the many Renaissance Fair events or join in the Fourth of July festivities. The Fulton Farmer's Market is open all season on Wednesdays and Saturdays and put on your dancing shoes to enjoy live country music every Saturday night at 54 Country.
Whether you enjoy hiking or biking, golf or fishing, horseback riding, wineries and live music or motorcycling, you can find adventure in Fulton, Missouri.
Sparkle Adventures offers custom adventure planning services for your next adventure. We do the planning; you have the fun! Check out our adventure planning services and pricing at www.sparkle-adventures.com and get your next adventure started today.